GB Plastics & Blinds offers a range of polycarbonate roofing products. Polycarbonate roofing solutions provide UV protection with even light transmission to your outdoor areas. For further advice on polycarbonate roofing applications and to sample the different profiles come in, visit us today and speak to our experienced staff.
LEVEL 1 - SOLASAFE
The most widely used Solasafe polycarbonate sheet. Six colours with varying light and heat transmission ratings.
When you want maximum light Solasafe Clear sheeting lets 90% of available light flood your space.

Truly, 'your window to the sky'. Integral surface protection prevents UV degradation of the sheet and helps prolong its life.

It also minimises yellowing of the sheet over its lifetime; see the generous warranty that covers this.
The impact strength of polycarbonate is up to 250 times that of tempered glass, strong enough to resist damage from even heavy hail.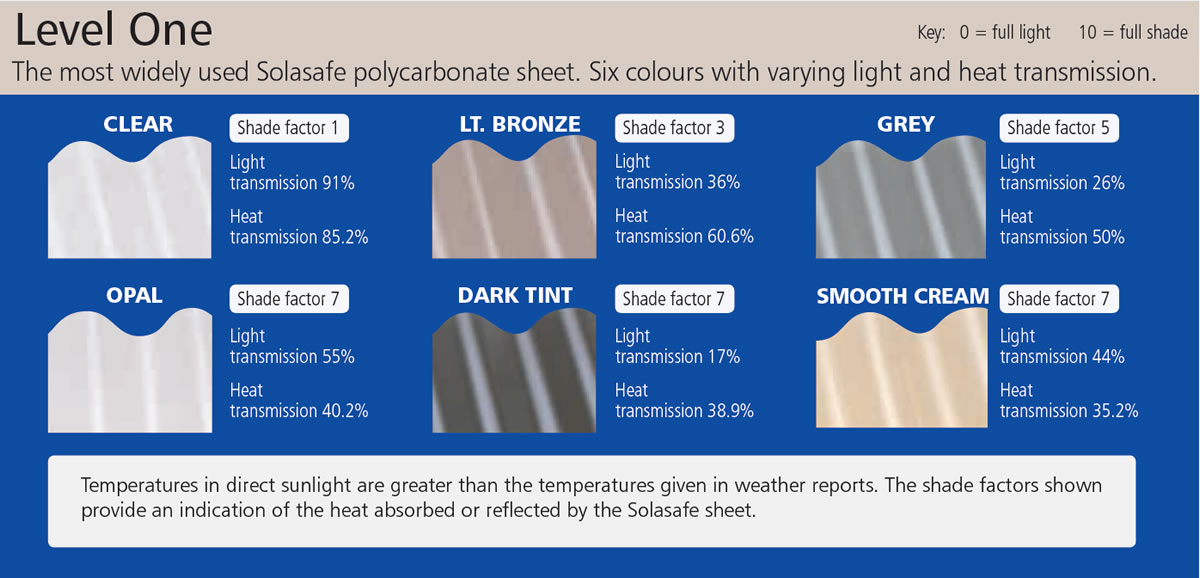 LEVEL 2 - SOLAFROST
Ampelite SolaFrost incorporates our impressive 99.9% UV protection for your family.

Ampelite SolaFrost can also be used as a security screen for extra privacy.
To complement your UV protection, Ampelite has now added the SolaFrost matt texture to the underside of the polycarbonate sheet. This will give you better heat dispersion coupled with even light transmission to your outdoor area.
Ampelite SolaFrost texture reduces the harsh glare of the direct summer sunlight by diffusing the light.
SolaFrost Clear allows 87% light transmission.
SolaFrost Grey allows 27% light transmission.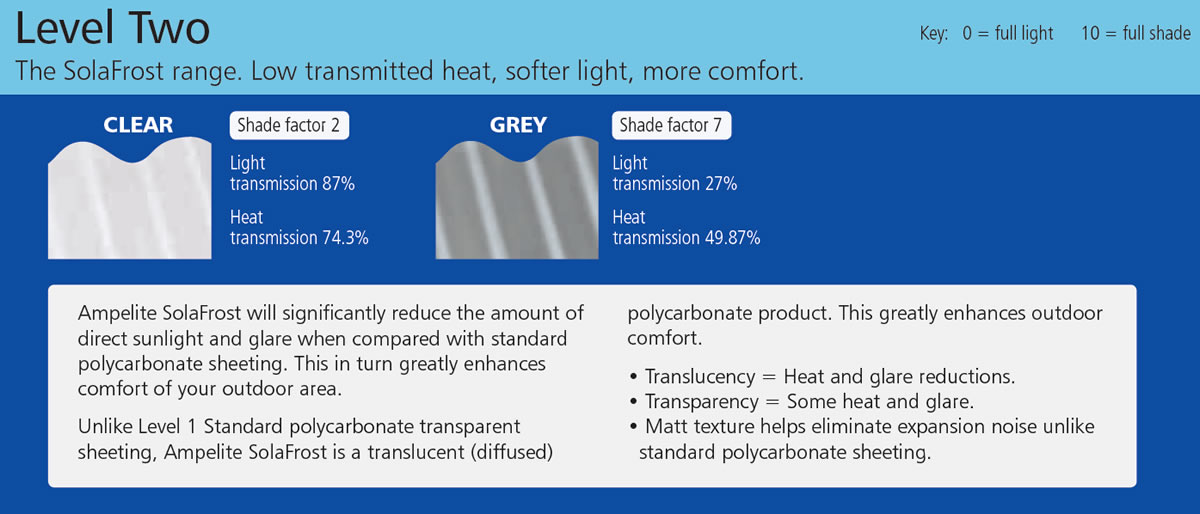 LEVEL 3 - SOLASAFE HR1 (Heat Reflective)
Metallic particles reflect heat but allow soft diffused light to pass through.

Especially suitable in hot climates.
The advanced technology incorporated in 'Solasafe' Level Three sheeting disperses and reflects up to 80% of the sun's heat while allowing soft, diffused light, to pass through.

This is achieved by millions of metallic particles scattered through the sheet. Use Solasafe Level Three where the climate demands it.

99.9% UV protection is built-in to protect the sheet surface and the people below.

Enjoy outdoor living in comfort.

---